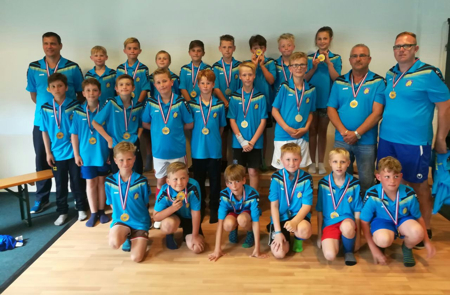 Beide E-Jugend-Mannschaften vom SCC feiern die Meisterschaft
Die E-Jugend-Kicker vom SC Cismar konnten sowohl in der Kreisklasse A als auch in der Kreisklasse B die Meisterschaft in Ostholstein erringen. In der Hall of Sports wurde die Meisterschaft dann am 18.06. gemeinsam gebührend gefeiert. Neben der offiziellen Medaille vom Kreisfußballverband – überreicht durch den 1. Vorsitzenden des SCC Andreas Hagen – gab es noch ein Meisterschafts-Polo-Shirt und eine Saisonkarte für die neue Hall of Sports Kids. Das stolze Trainerteam Olaf Preuß, Kai Kroll, Martin Breitlow und Ulrike Treutler freuten sich mit den Jungs und werden auch im nächsten Jahr mit 2 D-Jugend-Mannschaften und einer E-Jugend-Mannschaft wieder versuchen erfolgreich zu sein. Ein großer Dank auch an die Eltern, die immer toll unterstützen und den Jungs und Mädels die nötige Rückendeckung und Motivation geben. So macht Fußball allen Spaß und die Fairness steht immer Vordergrund.

Für die neue Fußball-Saison 2017/2018 werden noch ein paar motivierte Fußballer aus den Jahrgängen 2005 – 2007 gesucht. Anmeldungen zum Probetraining bitte voran bei Olaf Preuß unter Tel. 0173/64 64 033 oder per Mail an op1893@t-online.de.